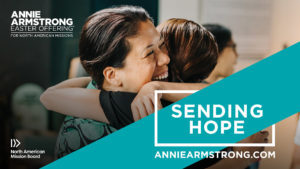 Monthly Giving: Annie Armstrong
Your prayers and gifts to the Annie Armstrong Easter Offering® provide support for more than 5,000 missionaries. These men and women are planting new churches in unreached communities and meeting needs through compassion ministries. Every day, lives are being impacted and transformed.
~ Our AWANA program meets every Wednesday night at 6:00 p.m.
~ Our MBC Youth meet every Wednesday at 6:20 p.m. in the youth building.
~ Adult Bible Study meets in the main sanctuary every Wednesday night at 6:30 p.m.
A.I.M., Adults in Ministry
Our Senior Adult Ministry (S.A.M.) will now be A.I.M. and is for all adults who are interested in serving the Lord by this means. The meetings will continue on the last Thursday of most months. If you have any questions please contact Roy Smith.
November 27, 2019 – No Wednesday Night Services on campus.
November 28, 2019 – Thanksgiving Meal at the church at 12 p.m. Signup sheet in the foyer.
November 29, 2019 – Student Ministry Black Friday Bonfire!
Mayo's annual Black Friday Bonfire at 6 p.m. (228 Hilltop Circle, Brighton) Dress warmly, bring a lawn chair and a new unwrapped gift. Pickup is at 9 p.m.
December 14, 2019 – Youth Christmas Caroling
J

oin the youth ministry as we visit Covington Manor Nursing Home to kick off their Christmas festivities. Leave the church at 9:30 a.m. or meet at the nursing home by 10:00 a.m.
December 14, 2019 – Christmas Village is 6-8 p.m.
December 15, 2019 – Evening Christmas Program, 6 p.m.
December 15, 2019 – Our

Kidz Ministry is taking a field trip to the Covington Manor Nursing Home during the morning children's church time to sing Christmas carols to the residents.



December 22, 2019 – No Evening Services
December 24, 2019 – Christmas Eve Service, 5:30 p.m.
December 25, 2019 – Christmas Day
December 29, 2019 – Morning Services but no Evening Services
January 1 – No activities on campus
January 5 – Back to regular schedule