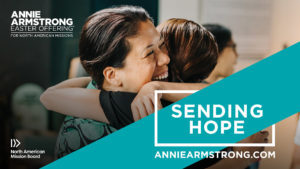 Monthly Giving: Annie Armstrong
Your prayers and gifts to the Annie Armstrong Easter Offering® provide support for more than 5,000 missionaries.
These men and women are planting new churches in unreached communities and meeting needs through compassion ministries.
Every day, lives are being impacted and transformed.
Wednesday Night Kids Program at 6:15 p.m.

Youth Group – Wednesdays at 6:20 p.m.

Wednesday Night Bible Study begins at 6:30 p.m.
Food Pantry requested donation for this week: Canned Vegetables, Apple & Pumpkin Pie Filling

Men's Prayer Group: Tuesday evenings @ 7:30 p.m. (Held in the Fellowship Hall)

Women's Prayer Group: Thursday mornings @ 10:00 a.m. (Held in the Future Generations Building)

Next

Theology Night will reconvene in January. We are working our way through The 1689 London Baptist Confession of Faith. Why subscribe to a confession? Why the 1689 LBCF? Come find out! If you need a copy of the confession, they will be available for $3.00. Sign up in the foyer. See Heath Sanders if you have any questions.

IT'S TURKEY TIME!!

We will deliver over 150 meals this Thanksgiving to our first responders and other members in our community. If you would like to offer your prayers, time, monetary donations or donate food items, we would be so thankful. Please see sign-up sheet in foyer. All monetary donations can be given to Bro. Bill.

Christmas Village Is Back!!!

Saturday, December 10th. Sign-ups to help with this community outreach event are located in the foyer.