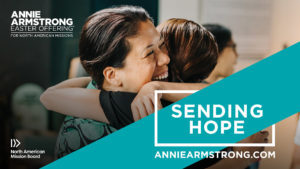 Monthly Giving: Annie Armstrong
Your prayers and gifts to the Annie Armstrong Easter Offering® provide support for more than 5,000 missionaries. These men and women are planting new churches in unreached communities and meeting needs through compassion ministries. Every day, lives are being impacted and transformed.
~ Our AWANA program meets every Wednesday night at 6:00 p.m.
~ Our MBC Youth meet every Wednesday at 6:20 p.m. in the youth building.
~ Adult Bible Study meets in the main sanctuary every Wednesday night at 6:30 p.m.
SEPTEMBER 21, 2019 – Munford Celebrate
Help needed as we pass out sausage biscuits at Munford Celebrate. Make sure to sign up to help!
SEPTEMBER 26, 2019- A.I.M., Adults in Ministry
Our Senior Adult Ministry (S.A.M.) will now be A.I.M. and is for all adults who are interested in serving the Lord by this means. The meetings will continue on the last Thursday of most months. If you have any questions please contact Roy Smith. Join us at 6:00 p.m. on Thursday, September 26, in the Future Generations Building for a potluck dinner. Our speaker will be Ron and Patricia Starnes.
SEPTEMBER 29, 2019- Wings & Things
Youth will be having SNAC at the Caldon's home on Sunday evening, September 29. Make sure you are at the evening service in order to attend.
SAVE THE DATE!!

"Richly Dwell" at Munford Baptist Church
Friday, October 18 and Saturday, October 19