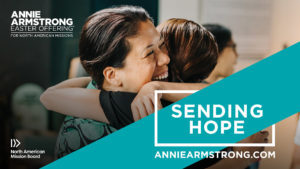 Monthly Giving: Annie Armstrong
Your prayers and gifts to the Annie Armstrong Easter Offering® provide support for more than 5,000 missionaries.
These men and women are planting new churches in unreached communities and meeting needs through compassion ministries.
Every day, lives are being impacted and transformed.
– Our MBC Youth meet every Wednesday at 6:20 p.m. in the youth building (old sanctuary).
– Adult Bible Study meets in the main sanctuary every Wednesday night at 6:30 p.m.
– Sabbath Dinner – Every Saturday evening. Sign up sheet in foyer – Contact Heath Sanders for more information.
–
Food Pantry: Open to all in need. The food pantry drive-thru will be on Saturday, November 13th from 10:00 am – 12:00 pm (or while supplies last).
– Mission Day – November 20th – We are collecting Coats, Jackets, and other warm clothes to distribute to those in need. Also we are collecting food items to share with needy families in our community – Contact Ms Stacy Mayo for more info.